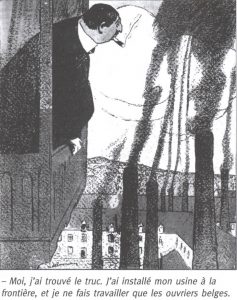 Caricature, L'Assiette au beurre, 3 mars 1906.
© Bibliothèque royale de Belgique
Prof. Laura Lee Downs won an ERC Advanced Grant as a principal investigator for her work on the Social politics in European borderlands: A comparative and transnational study, from 1870s to 1990s. The project seeks to reframe the history of welfare and social care in modern Europe by restoring to view the contribution of families and associations to shaping welfare systems in three borderland regions of north-western, eastern, and south-eastern Europe from the 1870s till the 1990s.
The project will go beyond the role of municipalities in welfare, which has been the object of extensive research. It will investigate how families and voluntary associations negotiated over entitlements to welfare, focusing in particular on support to children, veterans and working-class women.
"Rather than treating borderlands as peripheries, we approach them as laboratories for the development of social protection, thanks to the dense variety of actors competing for influence over their putative objects of assistance and for access to material resources," said Prof Downs. "We are eager to restore to view the vital role that families and voluntary welfare associations have long played in creating and delivering new forms of social welfare in Europe's many borderland regions. For we believe that these borderland stories have much to tell us about the development of welfare in Europe more generally."