Peripheries at the Centre: History of Borderlands as an Alternative History of Europe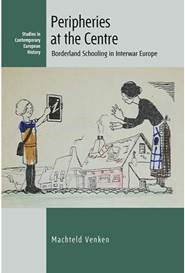 Professor Machteld Venken will share insights from her latest book Peripheries at the Centre. Bordeland schooling in Interwar Europe (Berghahn 2021). This fascinating study invites us to understand the recent history of the European continent from the perspective of its borderlands. Following the Treaty of Versailles, European nation-states were faced with the challenge of instilling national loyalty in their new borderlands, in which fellow citizens often differed dramatically from one another along religious, linguistic, cultural or ethnic lines. Peripheries at the Centre compares the experiences of schooling in two border regions that were detached from the German Empire after the First World War: Upper Silesia in Poland, and Eupen, Sankt Vith and Malmedy in Belgium. It demonstrates how newly configured countries envisioned borderland schools and language learning as tools for realizing the vision of a peaceful Europe that underpinned the political geography of the interwar period.
Peripheries at the Centre shows how the international border settlements after the First World War worked (or did not work) on the ground. We learn how pupils, their parents, and their principals maneuvered through changing legal and administrative regimes, and how those regimes were often riven by contradictions and failures in their application. Venken's thought-provoking theses should interest scholars concerned with how international and national dynamics shape the everyday experiences, subjectivities, and scope of action for children in a variety of contested areas.   Katherine Lebow, Oxford University
Peripheries at the Centre is a notable intervention in social history and an innovative contribution to current historiographical debates. It offers a deep comparison of German peripheral regions after 1918 in Poland and Belgium, and it sets up a theoretically sophisticated European analysis of the limits and inadequacies of nationally framed reform pedagogy, giving voice to children's modernity.  Steven Seegel, University of Northern Colorado
Machteld Venken is a Professor of Contemporary Transnational History at the Luxembourg Centre for Contemporary and Digital History (C²DH). She studied Slavic Languages and Cultures, European Studies and History in Belgium, Poland and Ukraine. Venken earned her PhD in 2008 at the Catholic University of Leuven (Belgium) and her habilitation in 2018 at the University of Vienna (Austria). She has been a Principal Investigator of eight research projects funded in four European countries. Venken joined the University of Luxembourg in November 2019 after a Visiting Scholarship at the Imre Kertesz Kolleg / Institute of Advanced Studies at the Friedrich Schiller University of Jena (Germany) and an Attract Brains for Brussels Fellowship at the Vrije Universiteit Brussels (Belgium). Her main research interests are transnational, transregional and comparative histories of Europe, migration, borderlands, oral history, the history of families and children, and citizen science.